Odyl Design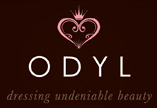 "I have worked in television for 14 years and chose Tower pictures to produce my video pitch to BBC"Dragons Den"- I wanted a professional, highly skilled and friendly company to deal with and that's exactly what I got!
My film was so good that the producers from the BBC kept showing my film in their promos for pitches on national television- something I hadn't bargained for but I think shows how good Tower pictures really are!
Excellent camera work, great editing and a fast turnaround just showed you're second to none.
Thank you so much and I look forward to working with you again."
Gemma HumphreysDirector Odyl Design